SEMA and the Millennial Experience
In a time when the millennial generation is embracing living life to the fullest over gathering as many objects around them as possible, the builders at SEMA have found subtle ways to enhance experiences through emotionally-relevant materialism. A mobile Kia beer mobile with Ballast Point taps, a vintage Harley board track race tribute with bikes built before WWI and BMW video simulators. A Sedona tricked out for racing with go karts above and behind the race bay, a Mercedes Metris party/DJ van, and award ceremonies for a first-of-its-kind televised custom car competition by battery maker Optima, The Ultimate Street Car. These were the elements that drew young people and stood out from the crowd at SEMA 2014. And for good reason: as a recent study showed, "A retailer's ability to make a millennial smile is 33% more important than it is to a baby boomer." (source: )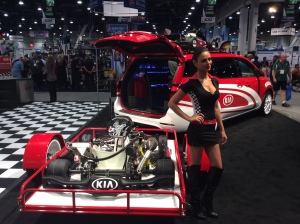 The Specialty Equipment Market Association is known for its extreme rides that challenge convention, but to appeal to a new generation that loves to share life adventures instantly, manufacturers at every level must create compelling messaging touch points and demos that are Instagram-ready. If it's not unique enough to share on social media with friends and family… it's probably not cool enough for GenY to fork over the hard earned dough they've scrimped for after paying off crazy-expensive student loans and living for years with their parents.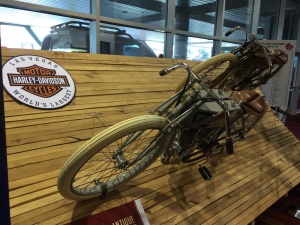 The result is that manufacturers have to now look at the overall brand perspective they are conveying to their audience. A tricked-out ride alone will get some looks and photos taken… a pretty model in front of it will get even more. But when a company engages you in the lifestyle of their product, from the audio bass-thumping and iPad social media sharing of Mercedes to the POV driving experiences of BMW, they take it up a notch. Considering that the two most prominent cultural aspects that define Gen Now, in their own words, are technology adoption and music/pop culture familiarity (source: ), these message channels take it up ten notches or more.
At it's heart, SEMA is a show of the material innovations in the automotive industry, and while some are rooted in performance while others are purely aesthetic, the luxuriousness of it all cannot be ignored. But when appealing to the ideals of would-be explorers and the offspring of baby boomer hippies that value friends, family, good vibes and world travel above working for the man, showing how vehicles can integrate into all aspects of daily life, even the not-so-fast and not-so-pretty ones, will be more important than ever.